The Denver Broncos are reportedly looking into hiring Green Bay Packers offensive coordinator Nathaniel Hackett as their new head coach. Here is a list of pros and cons to the hire.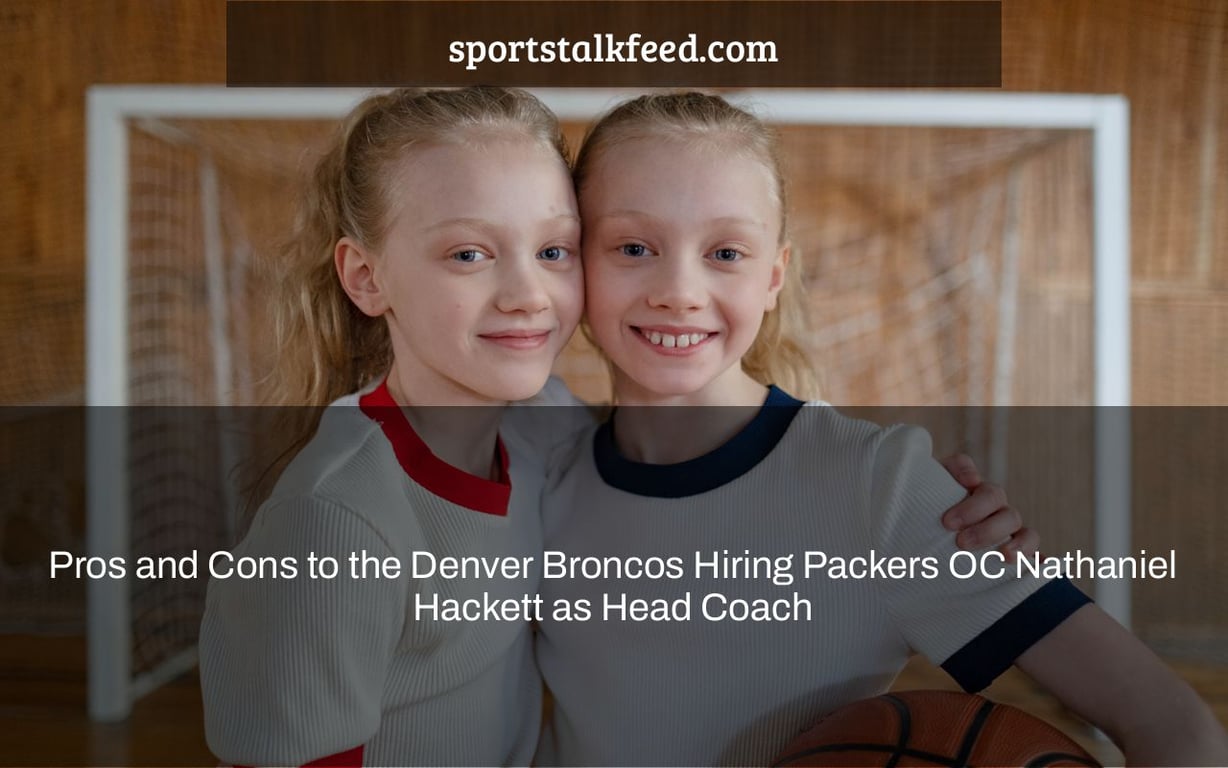 The Denver Broncos look to be on the verge of launching the Nathaniel Hackett era.
Hackett, who served as the offensive coordinator for the Green Bay Packers for the last three seasons, will allegedly become the Broncos' 18th head coach. The 42-year-old is set to sign a four-year deal and go to work immediately on resurrecting Denver as an AFC West contender.
Even though it's too early to tell how this hire will pan out, now seems like a good moment to examine the Broncos' reasoning for choosing Hackett.
Pros: Hackett is a seasoned offensive thinker who worked with Aaron Rodgers for three successful seasons.
Rodgers on #Broncos HC candidate Nathaniel Hackett: "What he did in JAX was pure magic. … He's a great coach. I love spending time with him. He's a fantastic teacher. He's incredible in front of the room."
Luke Getsy, according to AR: "Fantastic driver. A fantastic gaming instructor." https://t.co/DP9aikyvVo
— Zack Kelberman (@KelbermanNFL) January 13, 2022
Ask Aaron Rodgers what he feels of the Hackett hiring if doubting Broncos fans aren't convinced. In a Jan. 12 interview on The Pat McAfee Show, the Packers' top quarterback backed Hackett for a head coaching position many times in recent weeks, calling him a "great instructor."
Under Hackett's watch, Rodgers completed 67.1 percent of his throws for 12,416 yards, 111 touchdowns, and 13 interceptions in 48 regular-season games. Those figures will always help an offensive coordinator's reputation rise. 
To be honest, before putting up those ridiculous stats, Rodgers seemed bound for the Pro Football Hall of Fame. What else has Hackett accomplished? From 2015 to 2018, he served as both the quarterbacks coach and offensive coordinator for the Jacksonville Jaguars, where he coached Blake Bortles. He took over the latter post late in the 2016 season.
Bortles, the third overall choice in the 2014 NFL Draft, never lived up to the hype, but he did throw for a franchise-record 35 touchdowns in 2015 and led the Jaguars to an AFC Championship Game berth two years later.
What can Hackett accomplish in Denver if he can make Bortles appear like a competent gunslinger at times? Of course, this assumes the Broncos have a quality quarterback in place.
Cons: Did Hackett's stock rise for all the wrong reasons?
In terms of inclinations, Nathaniel Hackett will be a difficult opponent. Is he going to play LaFleur's offense or the one he ran in Jacksonville? Is he even going to run the offense? It might have an impact on Javonte's forecasts.
— Heath Cummings (@heathcummingssr) January 27, 2022
Although Rodgers' regular-season success boosted Hackett's status, it's worth remembering that he didn't call the Packers' plays. In each of the previous three seasons, head coach Matt LaFleur was the play-caller for the Packers.
Should it make a difference? Probably not, if only because Hackett was the play-caller for Jacksonville. However, we can't ignore the fact that he was dismissed by the Jaguars in the middle of the 2018 season.
Former Broncos offensive coordinator Adam Gase received high praise for his work with Peyton Manning in Denver a few years back. Regardless, football fans rightfully questioned if Gase was genuinely the "quarterback whisperer" that he was dubbed, or whether he and his reputation just profited by coaching one of the best players in NFL history.
Given how miserably Gase's stints as head coach of the Miami Dolphins and New York Jets went, the answer seems self-evident.
Should Hackett have been appointed as the Broncos' next head coach?
Should Nathaniel Hackett, the offensive coordinator for the Green Bay Packers, have been selected as the Broncos' next head coach? | Stacy Revere/Getty Images
Hackett ticks most of the criteria the Broncos should have checked while looking for a new head coach. He's a younger offensive mind with experience calling plays and playing a key role on winning teams. From 2017 to 2018, the 42-year-old coached in three conference championship games.
Hackett, on the other hand, still has to find a quarterback, and he needs to do it fast. Regardless of who the Broncos chose, whether it was Dallas Cowboys defensive coordinator Dan Quinn or a clone Vince Lombardi, the same priority goal would have been assigned. Teddy Bridgewater, who played for the most of the 2021 season, is set to become a free agent. Drew Lock, the Broncos' second-round choice in 2019, has yet to prove himself as the franchise quarterback.
The presence of Hackett has already sparked speculation about Rodgers perhaps following him to Denver. Rodgers said after the NFC Divisional Round that he wants to take his time deciding his future and that he does not want to be a part of Green Bay's reconstruction. However, as of this writing, there have been no reliable reports linking the two to a Broncos reunion.
For the time being, we're satisfied with Denver's choice to employ Hackett. However, if he and management don't find a trustworthy starting quarterback in the coming months, he might be out of a job before the Broncos' fight song can be sung.
Like Sportscasting on Facebook. Follow us on Twitter @sportscasting19.
Should the New York Giants Hire Brian Flores as Their Next Head Coach? RELATED: Should the New York Giants Hire Brian Flores as Their Next Head Coach?