I attended the WWE Draft live in Worcester, MA last night and I can tell you that the crowd was extremely excited for this historic night. The WWE went into some sort of rebuild mode as they completely changed the rosters of both Raw and Smackdown, new commissioners and general managers were announced and WWE will now hold two pay-per-views a month starting in September. After Battleground on Sunday, we will officially see a whole new WWE as Raw and Smackdown compete on back to back nights for supremacy. The Draft as a whole was a bit lackluster as at one point Stephanie McMahon and Mick Foley had selected way huger names than Daniel Bryan and Shane McMahon did. At one point Smackdown hadn't selected a woman or a tag team yet and Raw had two of each over them. It really did seem like they favored Raw more than Smackdown but I guess Raw is the flagship show so it's sort of justified. Anyways let's look at how the crowd reacted to some of the picks and superstars and what questions I have for the WWE.
Neville was really missed
via WWE.com
Before the lights went up and they started to record Main Event, Neville worked a dark match against Curtis Axel and the crowd gave him a HUGE pop. I really didn't expect Neville to get a reaction like he did but I guess with the new Crusierweight division on Raw, WWE needs his veteran experience back. The crowd gave Neville such a warm welcome back that he took a minute to embrace them before the bell rang. He looked like he hadn't missed a step last night as he was executing his kicks and arial assaults to perfection, he picked up the win using the red arrow which is something that has to be seen live to believe. Welcome back Neville, let's just hope that creative doesn't forgets you again.
The crowd was a bit smarky last night
Credit: WWE
As is the case with most wrestling shows, your guaranteed to sit next to some die hard wrestling fans and I got lucky enough to sit next to some smarks. My section really must've loved the Final Deletion as chants of "Brother Nero", "Delete! Delete! Delete!" and "Senor Benjamin" rang out at various points of the night (mostly when Bray Wyatt came out). John Cena came home last night but the crowd (myself included) didn't seem to care, the classic "John Cena sucks!" chant to the tune of his theme song is really my favorite one because of how creative it is. This chant didn't bode over well with the young kids in the audience but that didn't seem to bother any of us. The crowd REALLY wanted Shinsuke Nakamura and Bayley to get drafted as "Nakamura!", "Hey We Want Some Bayley!" and "Hey Bayley  Would Love If You Be My Girl!" chants rang out through the arena, I was hoping for at least one of them to get drafted but unfortunately that never came to be. The crowd was very alive last night, A+ effort out of Worcester.
Finn Balor and American Alpha are already over with the crowd
Credit: WWE.com
When Mick Foley said that Raw's next pick would be a superstar that can carry Raw into the future, everyone knew that Finn Balor would be the obvious choice. The crowd POPPED for Finn, so much so that it was almost deafening, the WWE Universe is definitely ready for the demon to shine on the main roster. The pop of the night absolutely went to American Alpha, when Shane McMahon said Smackdown's next pick would be one of NXT's top tag teams we all knew who the choice would be. Shane then told us to get ready, willing and Gable which popped the crowd even more like it is really awesome how far Jason Jordan and Chad Gable have come since forming American Alpha. Considering that the second best tag team on Smackdown is The Usos, I think American Alpha will skyrocket right to the top of the tag division.
With those notable observations out of the way, I have some burning questions for the WWE
Why did they split up The Wyatt Family?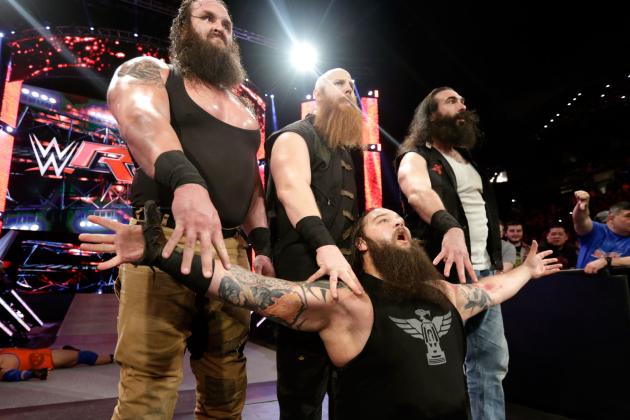 Credit: WWE
When Bray Wyatt was selected to Smackdown, many fans were confused as to if his bearded brothers would follow him to the blue brand but those questions were answered when Braun Strowman was drafted to Raw and Erick Rowan joining Bray on Smackdown. Why on earth would they break up the second best faction they have? What sense does it make to break up guys who debuted with each other days away before their match at Battleground? We all know that Braun Strowman isn't a good wrestler yet so why have him make a singles run? Did they not learn from the last time the Wyatt's split that the only one who got truly over was Bray? What this makes me lead to believe is that since Brock Lesnar and Strowman are on the same show, WWE will finally go through with the Lesnar vs Strowman match that some fans want to see. Bray will be elevated to the main event level over on Smackdown but what is Braun Strowman going to do? He can't really keep the black sheep gimmick since he is separated from Bray and Rowan so what is he to do? Will we finally see him fade into the back and later being wished the best of luck in his future endeavors? Time will only tell and this is something to lookout for on Raw.
Why is Kalisto on Smackdown?
Credit: WWE.com
WWE announced that they would be bringing back the Crusierweight division and it would be exclusively on Raw. They later announced that CWC competitors Kota Ibushi and Gran Metalik had signed deals so we can expect them to appear on Raw when the CWC is over but if your going to have a Crusierweight division, why didn't they draft the best crusierwight they have onto the show that has his division? What is he to do on Smackdown? He can feud with guys like Baron Corbin, Dolph Ziggler and The Miz but other than that he is probably going to job. Sin Cara should have been drafted to Smackdown and Kalisto to Raw so that way when the CWC concludes and a new Crusierweight champion is crowned, Kalisto and Neville can work with the new guys and make that division better than it was 10 years ago. It really doesn't make any logical sense to put Kalisto on the blue brand but we shall see how he fares.
Why does Smackdown have only two titles?
So The New Day, Charlotte, Rusev all took their belts to Raw while Smackdown brings Dean Ambrose and The Miz over with their belts. Come Sunday at Battleground all the belts could end up on Raw depending on if Ambrose and The Miz lose and if Rusev wins. Raw will then later add the Crusierweight championship to their roster which brings up the question why didn't Smackdown get any gold? I think the smart thing to do hear is introduce some new titles to Smackdown because they really need it if they want to be this whole seperate show. They can keep the WWE championship and Intercontinental championship on Smackdown but introduce some new titles so it adds up with Raw. I'm not saying bring back another tag title because they don't have enough tag teams to do so but they should bring back maybe the European championship or introduce a brand new title that we all haven't seen before just to make people tune into Smackdown every week. People are saying that bringing back two world titles would be a bad thing but it all depends on how they are booked and if they are booked the right way then it can only benefit both shows.
Why does Raw have so much more star power than Smackdown?
Credit: WWE.com
Raw has an absolute STACKED roster compared to Smackdown. Smackdown does have Dean Ambrose, AJ Styles, John Cena and Randy Orton but after that who really is on there to tune into and watch? Raw's first 12 picks were absolutely unreal compared to Smackdown's first 12. Smackdown has a lot of mid card talent like Dolph Ziggler, Alberto Del Rio, and The Miz but Raw drafted Gallows and Anderson, Enzo and Cass, Kevin Owens, Sami Zayn, Sasha Banks, Cesaro, Finn Balor and Charlotte. All of those superstars have main event potential and it made Smackdown really look like the second fiddle show that it truly is. Wouldn't it have made more sense to split the star power down the line a little bit? Like Kevin Owens, Cesaro and Chris Jericho should've went to Smackdown. The superstars that Smackdown picked on the WWE Network were a good amount of jobbers, you mean to tell me that Mojo Rawley, Breezango, The Ascension, Naomi and Eva Marie are all going to help Smackdown attrack some views? The only saving grace Smackdown does have from those late picks are Apollo Crews, Zack Ryder, Alexa Bliss and Kalisto. All of those superstars should get some spotlight in the near future. Smackdown's tag teams consist of American Alpha, The Vaudevillians, The Ascension, Breezango and The Usos. That looks INCREDIBLY weak compared to Raw who has The New Day, Enzo and Cass, Anderson and Gallows, The Dudley Boyz and The Golden Truth. Four jobber tag teams on Smackdown versus two on Raw, I guess The Usos and The Ascension will have to rise up to the occasion because you can't just have American Alpha dominate the tag division, there needs to be some balance.
So NXT's big stars will go to Smackdown right?
Credit: WWE
Like I said previously, Raw has a lot of stars compared to Smackdown. The only way to balance out that kind of power is to put Samoa Joe, Shinsuke Nakamura and Bayley onto Smackdown when their time is right (which could be right after SummerSlam). Then you can put Andrade Almas and Austin Aries on Raw then later put Hideo Itami and Bobby Roode on the blue brand. NXT will have a huge impact on the main roster in the near future purley because of how many stars are down there. Once those big guns are on the main roster, new stars will have to step up and the cycle repeats itself over and over again. The Authors of Pain, TM61, No Way Jose, Auska, The Revival and Tye Dillinger will all have great success on whatever show they end up on but if Smackdown wants to compete with Raw in storyline then they should sign a good amount of NXT talent to compete. Vince McMahon said he wants this to be like the Monday Night Wars and his children seemed to approve of that statement so lets make it an all out war with the stars of NXT as the soldiers.
Writer's note: What did you think of the WWE Draft? send your questions to my twitter @repete617 or my email: peter_luongo@outlook.com! Don't forget to follow the best sports account on twitter @SportsTalkFeed!