It is always good to reminisce on what made us jump out of our seats during the past year. WWE didn't fail to disappoint us with some of the most incredible and historic moments we saw over the past year and some of those moments had us thanking God that we are wrestling fans. These moments captivated us, shocked us, and made us can't wait to tell the next generation about what we saw. 2015 was such a disappointment that WWE needed to grab us back and boy did they ever. Here are the best moments from one of the best years in WWE history.
10. Zack Ryder shocks the world, wins Intercontinental title at WrestleMania.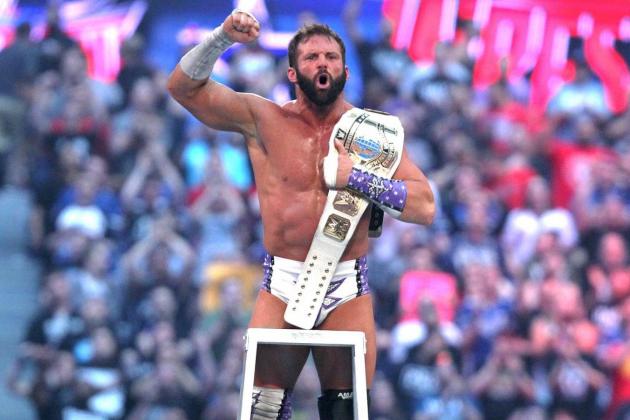 In one of the biggest shockers in WrestleMania history, the Long Island Iced Z finally captured a major title than no one would have thought would happen. Going into the Intercontinental title ladder match Ryder was just thought of to be an extra who wouldn't do much in the match. Realistically not a single soul picked him to win the match but he proved every single wrestling fan in the world wrong. Ryder captured the Intercontinental title to the delight of everyone around the world and it was a beautiful moment for Ryder. Just to think that almost 4 years ago he was made to look like a joke at the hands of John Cena and also it was a recurring joke that he hadn't won a match on Raw in 2 years to not only capture the second most prestigious title in history but do it on the grandest stage of them all. It truly was a great underdog moment for Ryder.
9. Daniel Bryan says goodbye.
It was something we all knew was coming we just didn't want it to happen. The most unfortunate thing about Daniel Bryan was that he was never able to stay healthy for his WWE title run and for that matter, his whole WWE career. Bryan was one of the easiest guys to get behind because of his underdog story and we all know what happened during the Yes! Movement. Every fan was banking on Bryan returning and being healthy enough for another WWE title run but after the company didn't clear him to compete for his sake, he finally called it a career. It was unbelievably sad to see him go and his retirement speech brought even the toughest of men to tears because he showed true emotion talking about his dead father, Conor the Crusher, his career and his wife Brie Bella. Many fans still believe he can come back and hope he does come back but seeing him go is something we will all remember throughout the annals of time.
8. Redesign, Rebuild, Reclaim
Extreme Rules 2016 as an overall show was very solid. Take into account the fatal 4 way Intercontinental title match and the extreme rules WWE World title match and you got yourself a good overall show. But it was what happened after the show that shocked the world and got the fans talking. After relinquishing his WWE World title due to injury in 2015 and missing WrestleMania, The Architect Seth Rollins made his long awaited WWE return and immediately sent a message. Rollins returned to a loud pop and pedigreed Roman Reigns to the chagrin of fans everywhere. After he returned, Rollins looked like he hadn't missed a step because he truly did redesign and rebuild himself. He also made good on his promise to reclaim the WWE World title and while that didn't last as long, at least it was Rollins who dethroned Roman Reigns as champ. Speaking of Rollins not holding the title for long…..
7. The ultimate payback.
After Seth Rollins and Roman Reigns put on one hell of a match at Money in the Bank it was the Lunatic Fringe that got the last laugh. Dean Ambrose had previously won the Money in the Bank ladder match during the night and he struck gold when the night was over. Ambrose cashed in his briefcase on a vulnerable Seth Rollins and finally captured the big one. Many thought this was long overdue but you have to remember that officials backstage didn't see Ambrose as being a good champion but took the risk and the risk paid off. Ambrose winning the title was the ultimate payback since he had been losing to Seth Rollins in years previous. I believe that Dean could become a multi time champion and since he has become one of the main figures on Smackdown he could grab the gold again as early as next year.
6. The brand split returns
When Shane McMahon returned to WWE many fans had a sneaky suspicion that WWE would return to the brand split format with Shane running one show and his sister Stephanie running the other. The company announced the brand split over social media instead of TV which was a bit odd but excited the fans nonetheless. This is something WWE needed to do because Smackdown was just a dumpster show, Raw wasn't interesting (it still isn't but you can't say it didn't improve slightly) and WWE really needed a reset for their product. Fast forward to today and Smackdown is the talk of the town, everyone loves to hate Raw, new titles were introduced and new superstars emerged. The brand split is doing everyone some good because it's introducing new superstars, it's getting lesser stars over and up and coming stars are being given chances with titles. I mean Bray Wyatt is finally champ, Alexa Bliss is proving to be a very good champ, Kevin Owens finally captured a world title and AJ Styles is our WWE World champion. Could we ask for more?
5. Sasha and Charlotte > Trish and Lita
This was the year of the Phenomenal One but this was also the year of the women, specifically Sasha Banks and Charlotte. It all started at WrestleMania 32 when Sasha, Charlotte and Becky Lynch put on the best women's match in WrestleMania history. Charlotte won the new WWE Women's championship which replaced the old Diva's championship. No more were the women in WWE referred to as Divas but superstars and Banks and Charlotte were at the center of it all. These two women really made history this year. They hot potatoed the Raw Women's title, they main evented a WWE PPV for the first time in history, they had the first ever women's Hell in a Cell match and have put on several match of the year contenders. This feud solidified both women as being better than the trail blazers that came before them in Lita and Trish Stratus. It is now time for the two women to move on from each other but knowing WWE they will definitely have them feud once again down the road.
4. Here comes the money!
Well this one was certainly a bit of a shock. While he heard rumors that AJ Styles, Seth Rollins and Goldberg would make their WWE returns/debut, we heard NOTHING about Shane McMahon returning to the company. Shane made his long awaited return on an episode of Raw to confront his father and sister about taking control of Raw. He was put in a Hell in a Cell match against The Undertaker for control of Raw at WrestleMania but was defeated by The Deadman. Even after losing to Taker, Shane still got to run Raw. The whole storyline just didn't make any sense whatsoever but it was still amazing to see Shane back in the company especially after leaving on bad terms the last time. Shane did get the chance to run Smackdown Live and everyone is happy with that choice. He has the blue brand in a position it has never been in before, a position that is better than Raw. The good thing about Shane returning is he can still wrestle as was evident at both WrestleMania and Survivor Series. I believe Shane still has some good matches left in him and it will be interesting to see who he goes up against.
3. A Phenomenal victory.
This was one that many fans expected to happen but were still in shock that it did. When AJ Styles made his debut at the Royal Rumble almost every fan wanted him to win the WWE World title immediately and while we knew his time was coming, we were still in so much shock. This victory by Styles over Dean Ambrose at Backlash was so historic. No one ever thought we would see Styles in the WWE let alone in possession of the WWE World title but 2016 proved to be a year of firsts. The reason why this was such an important victory is because Styles has dominated in every single promotion he has been in which is why I consider him one of the top 5 wrestlers of all time. Styles won the world titles in both TNA and NJPW and for him to be carrying the WWE World title, the most prestigious title in history around his shoulders is just something special. I wish he could have it forever but that probably won't happen. It was just spectacular to see Styles awarded with the gold after all his years of sacrifice.
2. 1:25
Well WWE certainly thought it would be a nice treat to throw us the absolute  best swerve of the last 5 years. When Goldberg was announced to be the special DLC character for WWE 2K17 everyone knew his return was imminent. And since the whole gimmick of the video game was Suplex City everyone also knew that the Brock Lesnar-Goldberg rematch was imminent as well. The huge match was announced for the main event of Survivor Series. Many fans thought this match would be a dud considering both men just toss their opponents around but it turned out to be the best thing I have ever seen. Goldberg SQUASHED Brock Lesnar in 1:25. Think about that, the one in 21-1, the Beast, the Conqueror, the Mayor of Suplex City and the guy that even dominated in his UFC return was just squashed by a man who hadn't wrestled in 12 years. This match was obviously meant to set up one more WrestleMania match but the way it was done is just one of the biggest shocks in pro wrestling history. 3 moves is all it took for Goldberg to conquer Lesnar, that is just something to marvel at.
1. A Phenomenal debut
We had heard that weeks before the 2016 Royal Rumble that WWE had raided NJPW of its top talent which included Shinsuke Nakamura, Luke Gallows, Karl Anderson and the Phenomenal AJ Styles. Styles was the big fish that everyone wanted to catch and when WWE finally lured him in fans waited in excitement for his debut. We didn't have a clear indication as to when Styles would show up but when the third buzzer sounded in the Royal Rumble we all knew someone was coming. We heard this new theme music play and Roman Reigns looked more confused than the fans are as to why he is still getting a push, then the words "I AM PHENOMENAL" appeared on the titantron and out walked AJ Styles. The pop was MASSIVE. It was kind of low because they weren't that many die hard fans in the arena but their voices were heard when AJ appeared. It was just something every fan will remember no matter if you watched live on TV or in person. This was something that no one thought we would ever see and when we did see it we were shook.