If you have been keeping up with my Best of WWE 2016 articles then it has seemed like we have reached our last category in WWE for 2016. The Tag Team division has breathed a new breath in 2016 as The New Day, #DIY, The Revival and American Alpha have all set the bar high for tag team wrestling. Everyone was so focused on the women's revolution in WWE that people seemed to sleep on the great tag team wrestling we got this year. Having two tag team titles on two separate shows can only elevate both division higher and with all the talent that is on the roster currently, the tag team division looks to be all set for the next 5 years or so. Some of these teams put on MOTY candidates and others reinvented their look. So let's now take a look at the best tag teams WWE had to offer in 2016.
10. The Usos
The one reason people stopped getting behind The Usos was because of their cousin Roman Reigns. People felt like Jimmy and Jey were being treated like Reigns so they decided to rebel against the face brothers. That was all until WWE finally found something smart to do with them, they turned heel on American Alpha in early September. The Usos as heels just works because they look very bad ass and this new mean streak they have can really pick up speed. They should be booked as despicable heels who cheat their way to win because that can only get more heat on the duo. The brothers had some championship matches in 2016 but failed to capitalize. The reason they make this list is because of how good they look with their heel gimmick and for the way they embraced their heel turn. I believe The Usos will capture gold in 2016 and probably cheat to do it.
9. Heath Slater & Rhyno
If you told me at the beginning of 2016 that Heath Slater would win another championship in WWE again I would have told you to check into a mental institution but a lot of things changed when the brand split returned. Heath Slater wasn't drafted during the brand split draft and he was booked as the "hottest" free agent in sports entertainment. Shane McMahon announced a tournament to crown the first ever Smackdown Tag Team champions and Slater was given a chance to compete for the titles so long as he found a partner. That partner would be the man beast Rhyno and the two formed one of the weirdest tag teams ever. They ended up winning the whole tournament and became the first ever SD Tag Team champs. The way WWE booked the duo was smart. As an unlikely tandem winning the whole thing, it put Heath Slater over and finally gave him relevancy. The two lost the tag titles to The Wyatt Family at TLC after holing them for 80+ days. I feel like the team will split in 2017 because the joke has come and past and Rhyno will probably leave WWE. The two had a great run and will forever be known as the first ever Smackdown Tag Team champs.
8. Cesaro & Sheamus
Cesaro and Sheamus had one of the weirdest years in WWE but it all worked out in the end for the duo. They were first booked into a best of 7 series with the winner receiving a title shot but when Cesaro was coming back from a 3-0 deficit against Sheamus at Clash of Champions, the match ended in a draw. Fans were very upset with this booking decision because they wanted to see Cesaro comeback and get a title shot he deserved but he ended up in a tag team with the guy he was feuding with for months. Their match at Clash of Champions was one of the better matches of the year it just ended badly. However many fans were shocked to see how much their tag team worked. The two did the unthinkable and defeated the New Day to end their record setting title reign to become the new Raw Tag Team champions. Much like Heath Slater & Rhyno, the thrown together tag team finally got over and captured gold. Many fans still feel like they should break up the unlikely tandem but I don't see that happening anytime soon. It will be interesting to see who challenges Cesaro and Sheamus next and who will be the team to dethrone them as champs.
7. Luke Gallows and Karl Anderson
When WWE raided New Japan of their top talent at the beginning of 2016 many fans were so ready to see AJ Styles and Shinsuke Nakamura compete in WWE that they almost forgot about one of the best tag teams in the world. Gallows and Anderson were apart of the Bullet Club in New Japan and dominated the tag division for a couple of years. When they were signed by WWE and debuted by beating down The Usos many fans felt like they should've captured the tag titles immediately. They ended up being booked as AJ Styles' lackeys and #BeatUpJohnCena for the better part of the summer. After that they were drafted to Raw and were put into a weird feud against the New Day. They were turning into a comedy gimmick which sucked a lot because these guys aren't comedy. They need to be booked as legit badasses and should definitely capture the Raw Tag Team titles in 2017. WWE needs to stop making a joke out of these two guys and realize the talent they have. Gallows and Anderson really remind me of The Outsiders and should be booked to be similar to them.
6. The Authors of Pain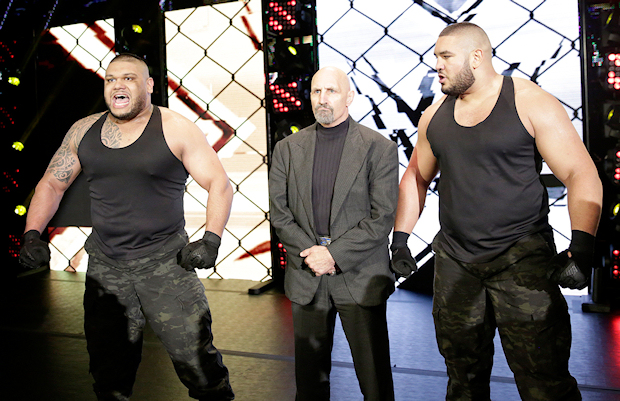 This may come as a shock but The Authors of Pain had one of the most dominant years out of any tag team in WWE. Rezar and Akam bulldozed their way through the entire NXT roster and they even dominated the Dusty Rhodes Tag Team Classic. The Authors debuted at NXT Takeover: The End after American Alpha lost their NXT Tag Team titles to The Revival. The big mean beat down Chad Gable and Jason Jordan after legendary manager Paul Ellering revealed he would manage the duo. This would be a bit nostalgic as Ellering used to manage the legendary Road Warriors back in the day. The Authors of Pain defeated TM-61 in the Dusty Classic finals at NXT Takeover: Toronto. The two but in a good showing and proved that they are skilled big men which is something of a rarity in WWE. The Authors of Pain look to continue their path of destruction in 2017 and dethrone #DIY as tag team champions.
5. Enzo Amore & Big Cass
Enzo Amore has to be the most charismatic person in WWE right now and maybe it is even fair to call him the best on the mic in WWE also. Big Cass is a more athletic version of Kevin Nash and the man rarely botches his moves. Put the two together and you've got gold. Enzo and Cass debuted the night after WrestleMania 32 to a very loud pop. Their "how you doin?" and "SAWFT" chants are going to become one of the most legendary lines in WWE history. It is almost a better version of what The New Age Outlaws used to do. Enzo still has a long way to go in terms as a wrestler but as a talker he has already surpassed some of the greats before him. A perfect title win at WrestleMania would finally put the duo over the top and lord knows they deserve the belts. 2017 will probably be the year of the Certified G's.
4. The New Day
Now hear me out on this one. The reason I put The New Day outside of the top 3 is not because I feel like they should've lost their tag team titles way before they broke the record for the longest reigning tag team champions in WWE history but for the reason that their day has come and gone. The trio has been going strong for close to 2 years now and I feel like a breakup is coming. But enough with talk of a breakup, The New Day became one of the best things in WWE in 2016. They dominated the merch sales with their light up Unicorn horns and boxes of Booty-O's (which became an actual breakfast cereal), both Big E's entrance chant and Xavier Woods' WWE tag team champions rant got over with the crowd, they got Owl noises over with the crowd and overall The New Day just had a spectacular year. They beat some of the top tag teams on their way to shatter Demoltion's tag team title reign record and look to recapture their belts in 2017. I feel as though the New Day will pick up steam again and talks of a breakup will go out the window.
3. American Alpha
If you remember way back when in NXT, Chad Gable and Jason Jordan were looking to become partners with each other and when the two finally decided to come together as a team they formed one of the best tag teams in WWE both from an athletic standpoint and a wrestling standpoint. They are both former amateur wrestlers so their in ring technique is amazing and they draw comparisons to Kurt Angle and The World's Greatest Tag Team. American Alpha defeated The Revival in a spectacular match at NXT Takeover: Dallas to win the NXT Tag Team titles for the first time. Their title reign would be a bit short lived as they lost the titles right back to Scott Dawson and Dash Wilder at Takeover: The End. That would be the last time we saw American Alpha in NXT as they were drafted to Smackdown during the brand split. They shockingly defeated The Wyatt Family to win the Smackdown Tag Team titles a few weeks ago. Their win was a bit of a shock because like Enzo and Cass, a title victory at WrestleMania would've thrown these guys over the top. They are arguably one of the best pure wrestling tag teams in the company currently. From Grand Amplitude to their devastating suplexes, American Alpha looks to solidify themselves as Kings of the Tag Teams in 2017.
2. The Revival
Scott Dawson and Dash Wilder are what happens when you go back in time and bring back the Midnight Express and put them in today's WWE. The Revival are really what their name is, they are the rebirthing of old school brawling tag team wrestling. They are amazing heels and their cheaty antics put them in a company of their own and as wrestlers they are just as good. The Revival became the first ever two time NXT Tag Team champions in 2016 and were apart of 2 of the top 3 best matches of the year. Both of their matches against #DIY at NXT Takeover: Brooklyn 2 and NXT Takeover: Toronto are ones we will look back and say "man we sure were lucky to have witnessed such amazing tag team wrestling". These guys are bringing a revival (pun clearly intended) to the tag team division in WWE and when they get called up to the main roster (because they need it they've been in NXT for years) they will continue to prove why they are the revival of old school tag team wrestling.
1. #DIY
They are going to go down as the best thrown together tag team the WWE has ever made and you really can't argue that. Johnny Gargano and Tommaso Ciampa took the wrestling world by storm in 2016 with MOTY contenders at every corner. We obviously know the magic they put on at both NXT Takeover: Brooklyn and Toronto but you have to see their match during the Crusierweight Classic to see that these guys are just as good singles wrestlers as they are a team. The Psycho Killer and Johnny Wrestling won the undisputed best match of 2016 at NXT Takeover: Toronto. The match was their revenge from NXT Takeover: Brooklyn 2 were they put on the second best match of the year but came up short. From that point on they were billed as underdogs and they got the NXT Universe behind them. When they won the NXT Tag Team titles it was a bit of an emotional moment for both men. You saw real emotion out of the both of them and who knows what kind of magic #DIY will work in 2017.