The Boston Celtics are the top team to watch for when February 23, 2017 rolls around. Why is that date so meaningful? That date is the most wonderful day of the NBA calendar, it's deadline day. The Celtics have had trade rumors circulate around them for about two years now and the main reason is they own the worst team in the league, the Brooklyn Nets, first round pick(s). The Celtics also currently sit in second place in the Eastern conference and are three games back of the Cleveland Cavaliers for the number one spot in the conference. Even though the Celtics have their star player in Isaiah Thomas plus two perennial all star players in Al Horford and Avery Bradley, many people (as do I) believe they still need to make a trade to officially challenge the Cavs for the crown. This is kind of crazy to think about, the fact that the Celtics are second but still are a superstar away from a potential 18th banner still shocks me but I fully understand it.
Let's get this statement out of the way first: Boston HAS TO make a trade on deadline day. Last year they didn't make any deals and on draft night in 2016 they didn't do anything either. Danny Ainge has gone on record saying the Celtics weren't done shopping players and looking for trades but they still haven't done anything big (in terms of trading) since trading for Isaiah Thomas two years ago. But this raises another question: Boston has the assets and players so why did they never pull the trigger on a trade? I believe it was due to the fact that there weren't deals that stood out to Danny Ainge so he never traded any picks or players.
You have to believe in Danny Ainge. He pulled off one of the best trades I have ever seen when he traded Paul Pierce, Kevin Garnett, and Jason Terry to the Nets for Brooklyn's next three first round draft picks. This is trade is the reason the Celtics are so successful today, well that and Isaiah Thomas. But despite Boston's success, they still need to make a trade for a superstar or an all star caliber player and these are the guys they should pursue.
Paul George
The first name that appears on the list of potential trade targets for the Celtics is Indiana Pacers superstar Paul George. There were heavy rumors during the summertime last year that the Celtics could go after George but Larry Bird stated that George was a key part of their franchise and the team has no intentions of moving him. This rumor must be a zombie because about a month or two ago the rumors came back up. This rumor has more truth to it then it did the last time it was brought up and when you look at the future of Paul George, it makes sense that he could end up in Boston. The Pacers currently sit in sixth place in the East but they aren't that good of a team and they aren't going to get any better. It is for these reasons that George won't commit to Indiana for the long run and he has said he wants to be on a team that competes. Well look no further than the Celtics to fill George's needs. Now the Pacers will be asking a lot in return for George and the Celtics should take whatever they want if it's reasonable. I personally wouldn't give them the Nets pick this year but I would give Indiana the 2018 Nets first rounder. However the Pacers are most likely going to be asking for both the Nets' picks.
Danny Ainge should consider doing a package deal for George that does include both Nets picks. A deal that worked on the NBA Trade Machine was George and Kevin Seraphin for Amir Johnson, Kelly Olynyk, and Avery Bradley. That way the Celtics get rid of expiring contracts and give the Pacers some young talent that they need. It isn't the best trade by any means but if it gets Paul George on the Celtics, or if Ainge pulls something else, then who's complaining?
Jimmy Butler
The second all star that has been in Celtics trade rumors for a while now is Bulls star Jimmy Butler. We all know the story for the Bulls this season. Butler can't seem to get along with Dwyane Wade and Rajon Rondo so he has made it clear that he doesn't want to stick around for that. It is actually a shame that the Bulls are like this, they had a good offseason and looked to contend in the East but as it stands now they are in seventh place and may not even make the playoffs by season's end. It is in Chicago's best interest to start to rebuild and the only way you do that is by getting the number one pick in this year's NBA Draft. The Celtics want Jimmy Butler and the Bulls need both Nets' picks so I think we have something good brewing in the perennial pot here.
The trade can be similar to that of the potential Paul George trade in terms of who the Celtics would give up because that would be the same asking price for Butler. As is the case with Paul George, if the Celtics swing Butler then that could be the piece that helps them get past the Cavs. I would say it is more likely that Butler goes to Boston more than George does. An unnamed Bulls insider says that he "assumes" Butler ends up in Boston and that he would be "shocked" if Butler remains with the team after the deadline.
Now let's move on to other targets on the Celtics radar that aren't all stars.
Jahlil Okafor
I would have to say that Jahlil Okafor's name is the one that is most prominent in Celtics' trade rumors because Danny Ainge is always looking for a good, young big man to start on the Celtics. I will be really shocked if Okafor isn't moved on or before the deadline because the Sixers have pulled him from multiple games while they try to work out a trade for the young stud. The Celtics wouldn't have to give up a lot to get him, I would think that giving the Sixers the expiring contract players plus some late round picks would get the job done. Ainge shouldn't give up either of the Nets' picks for Okafor and if the Sixers are asking for both or just one, Ainge should walk away and go get someone else. Okafor isn't worth such valuable of picks (yet) because he hasn't really unlocked his true potential yet. If you put him on a contending team then I believe that Okafor will mature and start to form into the star he was projected to be but that is a matter of if not when.
Nerlens Noel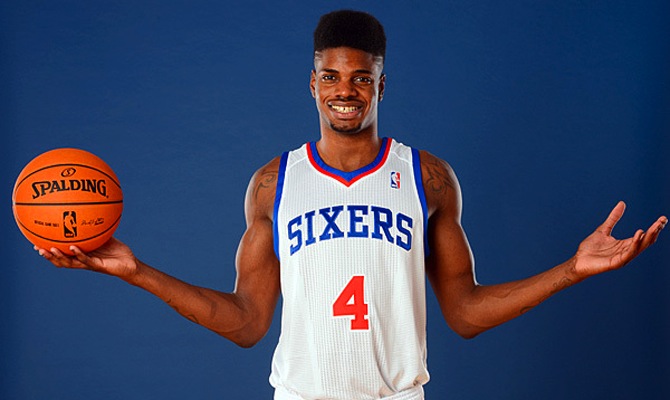 Nerlens Noel is a very underrated player and a great rim protector. His long wingspan makes him a danger to send shots away and he can work down in the post. These are the two things the Celtics need so why not pursue the Everett, Mass native? Noel's name has been somewhat thrown around in past trade talks about the Celtics but it wasn't anything major but I believe that Ainge should revisit those talks with Noel. Ainge should send Amir Johnson and Jonas Jerebko to Philadelphia to acquire Noel because it wouldn't take THAT much to get him. But this all can happen if the Sixers are willing to trade Noel which I don't think they want to. If they trade Okafor then the chances Noel gets traded goes down, Philly wouldn't want to give up two top 10 picks on the same day.
The players I listed are all great options for the Celtics and they may even go after other players who aren't listed here but I'm going to propose one last option for Boston: Don't trade either Brooklyn picks at all. The 2017 NBA Draft class is going to be one of the deepest in recent memory with every prospect having all star potential. Right now the Nets are the worst team in the league by eight games. They still have single digit wins and we're at the all star break, that is something that should excite a lot of Celtics fans. I know it isn't a guarantee that the Nets will get the first overall pick (remember the Cavs got it with a 0.8% chance?) but the way things are looking right now there is no way the Nets will drop out of the top three, maybe even the top 2. With that said I believe the Celtics should keep the pick and draft future stars  Markelle Fultz or Lonzo Ball. The potential on both of these prospects is through the ceiling, if Boston paired either of them with Isaiah Thomas then that would be something to watch. The pick is almost like having a superstar already and whoever the Celtics draft will certainly be a game changer.
Writer's Note: Follow me on Twitter! My handle is @repete617!