The Olympic games are always a showcase of some of the worlds best athletes. Athletes from all over the globe compete for gold in various events and sports, this year in Rio we saw some of the best athletic performances ever. From Simone Biles to the USA basketball team, all athletes who competed in this games should feel proud to have come this vary and performed on a stage this big. The Olympic games got me thinking about one thing, with all this talent in one place who are the greatest athletes in the world today? Who are the men and woman you can call one in a lifetime athletes?  Today I take a look at who deserve to be put in that category based on athleticism, accomplishments, skill and their competitiveness to win.
Steph Curry, Golden State Warriors
The man is the best shooter of all time and there is no questions asked. Steph Curry made an unbelievable 402 threes last season, the only time anyone does that is in the NBA video game. He is what every shooter aspires to be and undoubtedly has inspired a whole new crop of ballers to practice their three point stroke to be like him. Curry became the first ever unanimous NBA MVP this season which is something Lebron James, Michael Jordan, Kobe Bryant or Larry Bird can't even say happened to them. How good is Curry from the three you may ask? Well he broke his own three point record TWICE. He first set the record by hitting 272 threes then broke it by hitting 286 threes then finally set it in stone by hitting an other worldly 402 THREES. I know I have said it before but put that number into perspective, his own record for a single season was just 286 then he decided to make 116 more to make sure that record will only be broken by him alone. Steph Curry is also a member of the famed 50-4-90 club in the NBA and for my people who aren't familiar with that club it is when a player shoots 50% or better from the field, 40% or better from the three and 90% or better from the free throw line. We may never ever see another shooter like Curry which puts him in the once in a lifetime category, we all thought that Ray Allen and Reggie Miller where the gods of the three but then Curry came along and snatched their crowns right off their heads. The scary thing about Curry is he has PLENTY of time left in the NBA and he can only get better from here on out. Might be nasty.
Lebron James, Cleveland Cavaliers
Lebron James is what every basketball player should be. This man does it all on the court, from scoring to rebounding to passing to playing defense there really isn't another player on this earth quite like Lebron. When he lead the Cavs from being 3-1 down to the 73-9 Warriors this year he lead BOTH teams in points, rebounds, assists, steals and blocks. No man has ever done that in finals history and Lebron did all of that just to give the city of Cleveland a championship that it so desperately coveted. With each passing season it seems like Lebron just keeps climbing the all time lists in scoring, passing and rebounding and by the end of his legendary career he will probably be in the top 5 of the all time scoring list. We just will never see another player like Lebron ever again because he dominates the game in ways that are hard to describe. When the playoffs roll around he turns into a whole new animal and with him on your team, you are guaranteed a trip to the eastern conference finals. Lebron is a three time NBA champ, a three time finals MVP, a four time NBA MVP, a 12 time All-Star and is the Cavaliers all time leading scorer. Lebron's pure athletic ability goes unmatched in the NBA because you can't find a 6'8 250 pound player who bulldozes his way into the lane like Lebron and the best part is, Lebron brings up the ball like he is a point guard. There are only two men who I can think of that can play all five positions on a court and that is Magic Johnson and Lebron James. Even though Lebron is 31 and people think he has about 5 or 6 good years left, I feel like Lebron can go until he is 50 years old. Love him or hate him, you can't deny the once in a lifetime abilities of the King.
Tom Brady, New England Patriots
The greatest quarterback to ever play the game of football period. Tom Brady has lead the New England Patriots to six Super Bowls while taking 4 victories in the process. Those 6 Super Bowls are the most by any quarterback ever and Brady also has a postseason record of 22-9 which is the most wins by any quarterback ever and he has appeared in  more playoff games than any player at any position. Brady is also one of the best competitors of our time as well. If your down late in the fourth quarter and you need to give someone the ball, Brady is your man and that was evident in Super Bowl 49 when he lead the Patriots from being down 10 points against the best defense of that year in the Seattle Seahawks. There are plenty of comeback moments where you can show any hater and tell them that this man is the greatest of all time and it will most likely shut them up. Brady may be a top 5 regular season quarterback but when it comes to the playoffs, Brady is the undisputed number 1 choice. He has thrown more passing yards and touchdowns that any QB in postseason history, he set the record for most consecutive playoff wins with 10 in 2007 and you are pretty much guaranteed to go to the AFC championship game with Brady as your QB. Tom Brady has also shown that he can have a cannon for an arm, just ask any of his recivers who say catching passes from him can hurt sometimes. Brady has also stood the test of time and is so competitive that he believes he can play well into his forties but I think he should focus on getting his suspension lifted first. We will never see another competitor or winner quite like Tom Brady ever again and since his time in the NFL may come to a close, let's just sit back and enjoy his greatness.
Rob Gronkowski, New England Patriots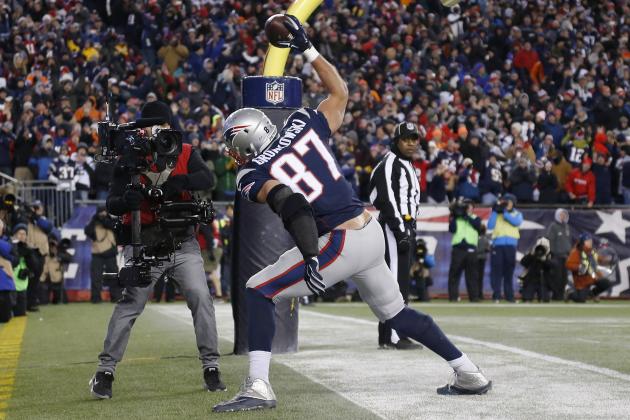 Simply put, Rob Gronkowski is the most dominant tight end in the last 10 years. He is the biggest red zone threat in the NFL as well, any time the Pats make it to the red zone it seems their first plan is to get the ball to Gronk because he can just hurdle over all the defenders. You aren't taking Gronk down that easily either as he has shown he can drag defensive players a good 5-10 yards after making a catch, the only way to really stop him is by going at his knees which has proven to work since he has torn his ACL multiple times. Standing at 6'6 and weighing around 250 pounds will make defenders shiver in their boots when Gronk has the football and is coming straight toward them. You can really make the argument that he is Tom Brady's number one target and throughout Brady's legendary career he has had Randy Moss as his receiver so to put Gronk in the same discussion as Moss is really saying something. Gronk is only 27 years old and already has the NFL records for most touchdowns by a tight end in a single season with 18, most receiving yards in a single season with 1,327, the most consecutive seasons with 10+ touchdowns by a tight end and is the first tight end ever to lead to league in receiving touchdowns. The reason Gronk makes this list is because of his pure strength and athletic ability. The one guy I can compare Gronk to is Lebron James and I say that because the both of them make playing their positions look so easy purely because of how big and mobile they both are. Some people consider Tyler Eifert to be the second coming of Gronk but he is going to have to put up a lot better numbers if he wants to be in Gronk's company. Gronk will probably spend the end of his career with a new QB depending on how much longer Tom Brady can go so it will be very interesting to see how a new QB can change Gronk, I personally think that as long as Gronk is in the red zone, he is guaranteed to score almost every time. You can honestly say that Gronkowski is already the greatest tight end in NFL history and the scary thing is he has a good 5-10 more years left in him.
Brock Lesnar, WWE/UFC
The Beast, The Conqueror, The One in 21-1, The Mayor of Suplex City, whatever nickname you want to give Brock Lesnar it will perfectly describe how much of a fighting machine this man is. He really is one of the most dangerous men on the planet and just seeing him live is enough to intimidate you. Brock is coming off his win over Mark Hunt at UFC 200 in which he also took home the biggest pay for any UFC fighter in history. Lesnar was paid $2.5 MILLION for his fight which is something that Chuck Liddell, Chris Weidman, Conor McGregor, Ronda Rousey and George St-Pierre haven't even done. Lesnar is also the biggest pay-per-view draw in UFC history, at UFC 100 Brock attracted 1.6 million buys for his fight against Frank Mir which is the most in UFC history. The best part is, Brock was bred in Vince McMahon's company which is something Dana White can't stand. Lesnar has had one of the best careers in WWE history, he is a 4 time WWE champion, a former Royal Rumble and King of the Ring winner, he broke the legendary undefeated streak of The Undertaker at WrestleMania 30 which is something no man ever though was possible and he hasn't been pinned in WWE in over 3 YEARS. Now that isn't to say that he hasn't lost in WWE in that span, he has with the most recent one coming at Fastlane, but it is just incredible how much WWE have booked him to look like a beast in that span. Brock Lesnar is without a doubt one of the most physically terrifying men on this planet and is a true fighting machine, his accomplishments in both the UFC and WWE put him in a company of his own and it seems that no man will ever match the pure power and ability of this once in a lifetime fighter.
Ronda Rousey, UFC
She is one of the women who are leading a renaissance in women's sports today and is the best female fighter every to step into an octagon. Ronda Rousey is the reason why UFC's women division is so promising and prominent and she made this possible by becoming the first female fighter to sign with UFC in November of 2012. Rousey has dominated the division for all of her career, how dominant is she? put this into your head, she defeated Cat Zingano in 14 SECONDS which is the shortest match in UFC history, she also defeated Alexis Davis in 16 second and Beth Corriea in 36 seconds. Add up those totals and it comes to 1:06, a minute and six seconds is all it took for Ronda to defeated three opponents. If that doesn't tell you that she is the most dominant female fighter ever then I don't know what will. Rousey lost her belt to Holly Holm on November 18, 2015 which ended her three year long title reign and also marked the first time Ronda lost in her career. Outside of the UFC she is a polarizing figure, appearing in a couple of action movies,, various magazines and also appeared at WrestleMania 31 to aid The Rock against Stephanie McMahon and Triple H. Ronda has hopefully inspired many women around the world to do the things she does and if the UFC's women's division continues to rise in popularity, we can all thank the best female fighter ever for that. We will never see another woman with the same build, ability and pure dominance like Ronda Rousey again which is why she is defiantly a once in a lifetime athlete.
Floyd Mayweather, Boxing
When you go 49-0 in your entire career, you deserve to have your name be in the conversation of the greatest of all time  with Muhammad Ali, Mike Tyson and George Foreman. Floyd Mayweather always brought this certain type of swagger whenever he stepped into the ring and he always approached a fight with the mentality of being the best boxer in the world. The one thing I like about Mayweather is he knows his worth, he knows he's the best and it showed in his fights. Mayweather has victories over legends such as Manny Pacquiao and Oscar De La Hoya while he also picked up wins over Miguel Cotto, Marcos Maidana and Canelo Alvarez. There is a good reason why people nickname Floyd "Money" because his pay-per-view draws are other worldly and the money they brought in is more than any man would see in his lifetime. His fight against Pacquiao generated 4.6 million pay-per-view buys and over $400 million in revenue. It was estimated that Mayweather earned about $200 million from just stepping into the ring alone and even more from winning the match itself. I can't really see any future boxer accomplishing what Mayweather has accomplished because the odds another boxer goes 49-0 in his career is slim to none I would say and the odds another boxer attracts as much as Mayweather did is even slimmer. Let us hope that maybe we get a Pacquiao and Mayweather rematch just so we can see one more fight out of Floyd and hopefully see him reach 50 wins.
Serena Williams, Tennis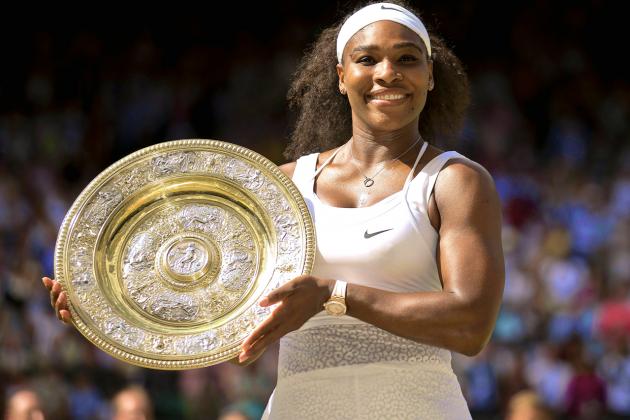 It really is fantastic that we live in a world with super athletes, some of them men and others women but in my mind Serena Williams is the greatest female athlete in the world today. You can describe her as dominant, super human and graceful because the way she plays the game of tennis is a sight to behold on to itself. She has 22 grand slam titles which is the most by any women's tennis competitor in history, she has 14 grand slam doubles titles along with her sister Venus, she has 4 Olympic gold medals in doubles and singles competition and it seems with every tournament she takes home the trophy. Whenever she is defeated in a match it seems like it becomes national news because we aren't used to her losing in a non tournament final match. Serena is very strong for a tennis player too, some of her serves have cracked over 105 MPH which is basically an automatic ace since no one seems to hit the ball back to her. It seems with each passing year she gets more and more better and keeps on winning grand slam tournaments. I cannot see another woman coming into the world of tennis and doing what Serena Williams has accomplished, even if you aren't a fan of tennis you should tune in and watch her play because we don't know how long she can keep going. By the way she has been playing lately it seems like she can go for another 10 years. There is no doubt that Serena has inspired a whole generation of young women to take up the sport of tennis and without her, tennis would never be the same.
Michael Phelps, swimming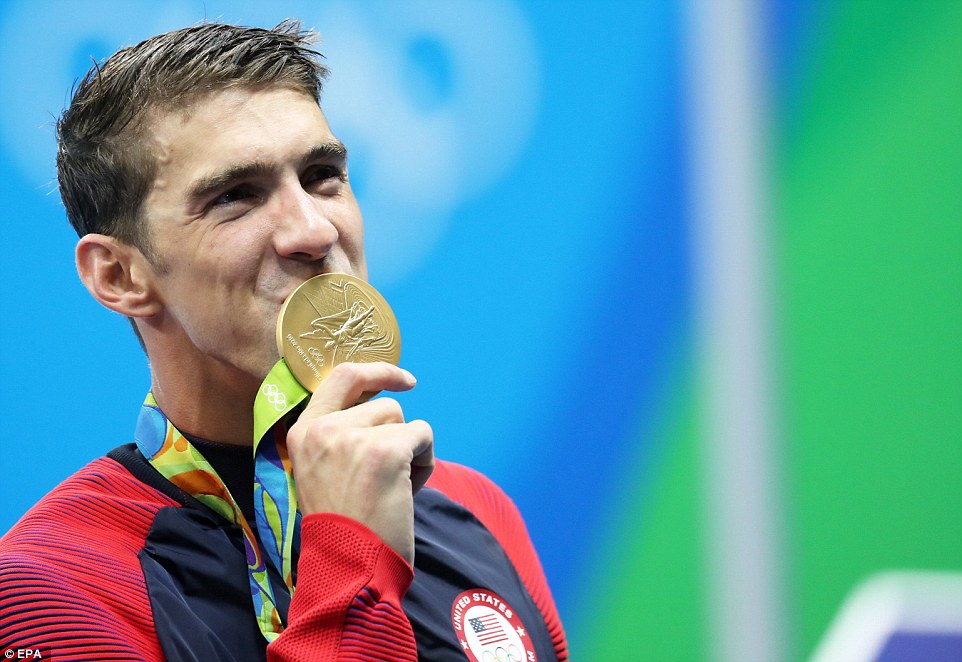 Need I say more here? If you have been watching the Olympics for the past two weeks you would have saw Michael Phelps add to his already outstanding medal counts. 23 GOLD MEDALS, Phelps captured his 23 gold medal in Rio and just solidified himself as the greatest Olympic athlete of all time. He broke a record held by Leonidas of Rhodes when he won his 14th individual gold medal, Leonidas of Rhodes competed in 164-152 BC. You read that correctly, Phelps broke a record which stood for over 2,500 YEARS, just think about that for a second Leonidas of Rhodes was competing in times before Jesus and Phelps just broke his record. I mean every time this man competes it's almost unfair, he just dominates every competition with the greatest of ease and his influence has apparently spread to Katie Ledecky. I'm keeping this entry short and sweet because we all know that Phelps belongs on a list like this one, the one thing we are all hoping for is if he competes in the Tokyo 2020 games. Fingers crossed on that one.
Usain Bolt, track
 When you are literally the fastest man in the world, you are automatically a once in a lifetime athlete. His last name fits him to a tee. Bolt holds the fastest time in the 100 meters with 9.58 seconds and he also holds the second fastest time in this event with 9.63 seconds. That first time is an Olympic record for the 100 meter and since then only Bolt has come close to beating his own record. Usain also holds the world record for the 200 meter with a time of 19.19. While he was a teenager, Bolt holds the records for the 200 meters in the following age groups: 15 (20.58 seconds), 16 (20.13 seconds which is a world youth record), 17 (19.93 seconds). He also ran the quickest 100 meters ever recorded when he ran an 8.70 in 2009. Bolt finished his Olympic career with 9 gold medals, leaving behind a legendary career that will stand the test of time.
*DISCLAIMER*-There are plenty of phenomenal talents in the MLB and NHL but the reason I put this group of athletes together is because I believe we will never see another player or competitor that will match what they did in their legendary careers. I did not include any players from the MLB or NHL or any other competiton or league because I feel we will see more players who will be as good as guys like Mike Trout, Sidney Crosby, Alex Ovechkin, Clayton Kershaw and JJ Watt. If you feel like I left players off this list or some players shouldn't have been put on here then please tweet me your questions. My Twitter is @repete617 and don't forget to follow the best sports account on Twitter @SportsTalkFeed!