This going to be a new series of articles I decided to start doing where I compare big WWE events (pay-per-views, Takeovers, etc) from the past year and see if WWE outdid themselves or if they took a step back. I will be comparing various championship matches from last year and this year's events as well as certain types of matches. For example in this article I will be comparing the NXT championship matches from this and last year as well as the other championship matches on the card. So sit back and welcome to a new era!
Opening contest
2015: Jushin Liger def. Tyler Breeze
2016: Austin Aries def. No Way Jose
The Pick: NXT Takeover Brooklyn 2015 gave us an unexpected surprise. Wrestling legend Jushin Liger stepped foot into a WWE ring for the first time and the die hard fans were truly excited to see this legend. The match with Tyler Breeze was solid but nothing really to lose your mind over, just seeing the legend was amazing enough and we all knew he would get the win. The opener for 2016 was Austin Aries vs No Way Jose. This match was a very good contest, NWJ proved that he is more than just a comedy act and impressed a lot of people while Aries proved once again that he is the greatest man that has ever lived. I enjoyed the Aries and NWJ match more than Liger and Breeze, this isn't to say that Liger and Breeze was bad it just didn't tell a better story than Aries and NWJ did. Plus to me at least, seeing Austin Aries on a nightly basis was a lot better than seeing Jushin Liger once.
The debut matches
2015: Apollo Crews def. Tye Dillinger in his NXT debut
2016: Ember Moon def. Billie Kay in her NXT debut
The Pick: Fun fact about this one, both debut matches didn't go over 5 minutes. While the whole purpose of a strong debut is to show case the new superstar's talent, I felt like Ember Moon's match was much better. Crews' match with Dillinger was kind of a squash match since Tye didn't get a lot of offense in, plus Crews won with a standing moonsault which isn't too impressive. Moon came in red hot, Kay did get the better of her in the first couple of minutes but then Moon just shot out like a rocket, flying around the ring and proving that she will be a big face in NXT. Moon's finisher alone made this a better match to me, it got the crowd on their feet and made a few fans' jaws drop. Three cheers for Ember Moon and here's to a great NXT career.
The mid match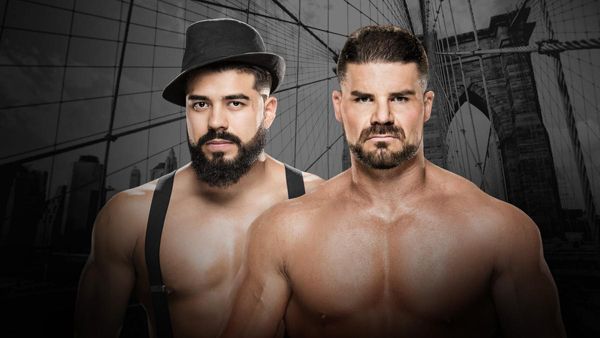 2015: Samoa Joe def. Baron Corbin
2016: Bobby Roode def. Andrade Almas
The Pick: What a glorious match it was. When Andrade Almas debut, I knew that he was big in Mexico but the crowd didn't really pop for him however his match at Takeover Brooklyn should have made fans think otherwise. He was booed since Roode's entrance music is the best thing since slice bread and people just generally like him more but Almas did shine in defeat. The only thing I would change about this match is Roode's finisher since it isn't anything big. Samoa Joe vs Baron Corbin was just ok, it was a bit sloppy and slow at some points and Corbin hadn't made the big leap he did when he debut on the main roster. Comparing these two matches, Roode vs Almas was much better, the future is very bright for NXT's next big things.
NXT Tag Team Championship match
2015: The VaudeVillians with Blue Pants def. Blake and Murphy with Alexa Bliss to become the new NXT Tag Team champions
2016: The Revival def. Johnny Gargano and Tommaso Ciampa to retain the tag team titles.
The Pick: No questions asked on this one. Gargano and Ciampa picked up right where their CWC match left off. The Revival are one of the best teams in WWE, likewise for Gargano and Ciampa, mix the two together and you got one of the best tag matches of the year. The VaudeVillians have had a fall from grace since last year, ditto for Blake and Murphy plus the only thing special about their match was the arrival of Blue Pants. The two teams put on an incredible contest in 2016, one that you can look back on and still be in shock of how good it was.
NXT Women's Championship
2015: Bayley def. Sasha Banks to win the NXT Women's championship
2016: Asuka def. Bayley to retain the NXT Women's championship
The Pick: I'm keeping this short since nothing will top the masterpiece that was Bayley vs Banks. The match was a good sendoff to Bayley since we knew her time in NXT would come to a close after the event. Just everything about Bayley vs Banks was phenomenal, it may not be topped for another decade.
NXT Championship
2015: Finn Balor def. Kevin Owens in a ladder match to retain the NXT championship
2016: Shinsuke Nakamura def. Samoa Joe to become the new NXT champion
The Pick: I can't decide here so I'm going to say it was a tie. Balor and Owens put on a real classic but as did Nakamura and Joe, having it be a ladder match was a nice touch but you may as well had Nakamura and Joe go until one of them knocks each other out, that's how hard they hit. Balor hitting a Coupe de Grace from the top of the ladder was an expected spot but boy did it still amaze. Owens throwing all sorts of ladders at Balor and also throwing Finn onto the ladder made some cringe and others cheer. The one thing I would take away is we all knew Balor would retain the title since Owens was already on the main roster but it was a fantastic send off to KO. We really didn't know if Nakamura was going to win the title since Joe looked like he could hold it for a bit longer but that match didn't disappoint what so ever For peet's sake Samoa Joe has a dislocated jaw because of a kinshasa on the part of Nakamura, if that doesn't tell you how physical the match was than I don't know what will. One thing is for certain, Nakamura will be of the most charismatic champs that has ever come into WWE.
Writer's note: Which show do you think was better? Tweet me your questions @repete617 and please follow the best sports account around @SportsTalkFeed!